Bridge to Bridge Cruise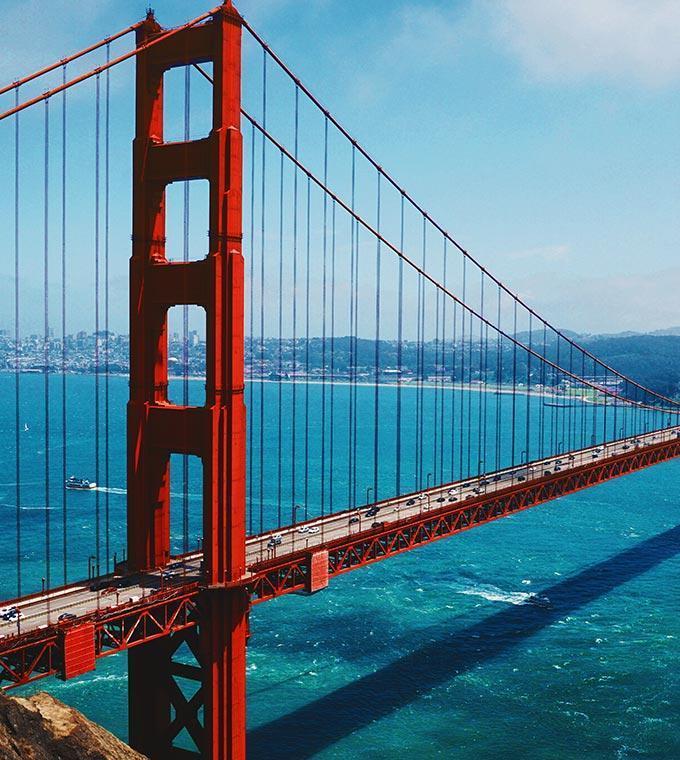 Sail under both the Golden Gate Bridge and the San Francisco-Oakland Bay Bridge in one spectacular cruise along San Francisco's entire urban skyline.
Along the way, explore San Francisco's stunning landmarks like Alcatraz, Coit Tower, the Ferry Building, Transamerica Pyramid, Palace of Fine Arts, and many more. Our San Francisco 90-minutes bridge to bridge tour give you the opportunity to learn about this city's unique natural history, architecture, and Native American culture through our audio tour. Other interesting aspects of the multilingual audio include details about the building of both bridges, the geology of San Francisco Bay and the earthquakes that have shaken San Francisco and require special seismic considerations in the designing of new structures. Sailing under both of San Francisco's incredible bridges surely will be the highlight of your journey.

Available languages headphone audio:

English, French, German, Italian, Japanese, Spanish, Portuguese, Chinese, Korean, Russian, Indian and Thai.


Departure times:
March 31 till May 18 daily at 12.30 pm, 2.15 pm and 4.15 pm
May 19 till September 1 daily at 12.30 pm, 2.15 pm, 4.00 pm and 5.45 pm
September 2 till November 1 daily at 12.30 pm, 2.15 pm and 4.15 pm
November 2 till March 29 daily at 12.00 pm and Thursdays through Mondays at 4.15 pm
Departure place:
Red and White Fleet, Pier 43, San Francisco, CA 94133
Ticket is valid for 365 days from date of purchase!
Buy your cruise ticket now at Ticketbar!

Tickets will be sent via e-mail!