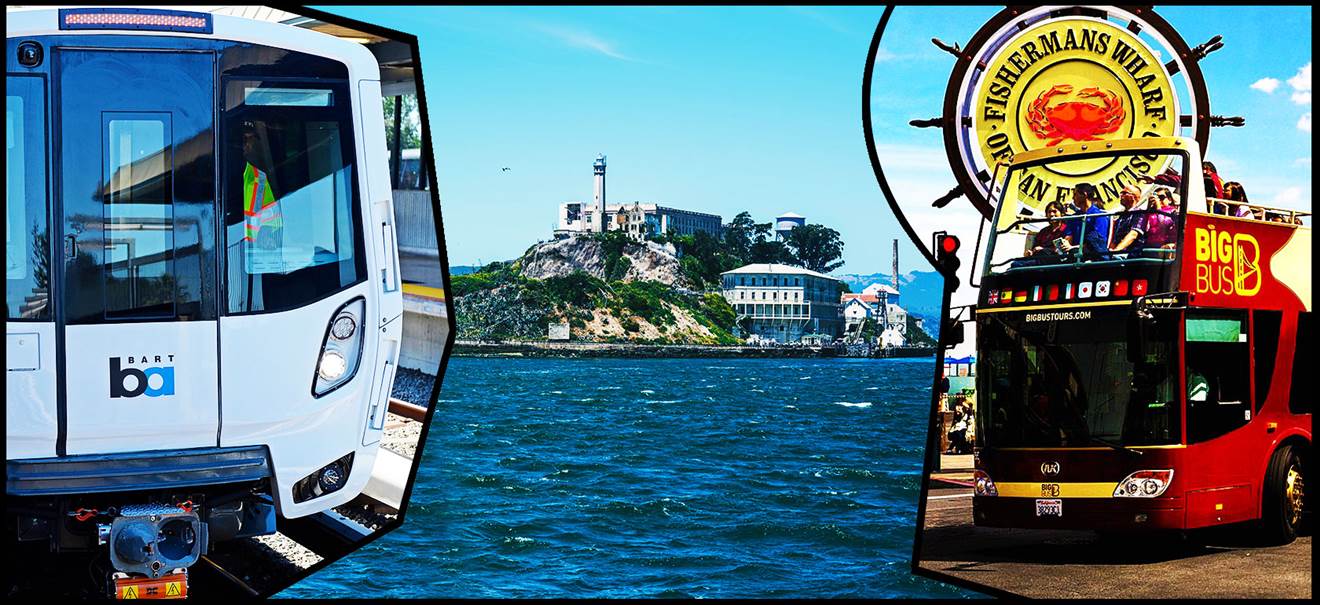 San Francisco Super Combi! (incl. Alcatraz + Hop on/off Bus)
To product
Everything you need when visiting San Francisco! Airport transfer, skip the line tickets for Alcatraz and get to know the city with the Hop on hop off bus.
San Francisco is becoming a worldwide synonym for the famous and the rich, the art scene, the flamboyant style of life and the centre of the Digital world. There is so much to see in this city like Fishermans Warf, Golden Gate Park and off course Alcatraz. 
The San Francisco Super Combi includes all you need when travelling to San Francisco:
Hop on Hop off Bus: The easiest way to get to know San Francisco. Hop on at each of the locations in the city centre and get off at one of the highlights like Fishermans Warf, Golden Gate Park, Pier 39 or China Town. The bus ticket is valid for 24 hours from the first time you start using it.
Alcatraz: the biggest icon of San Francisco and one of the most famous prison of the world. Visit the cell blocks and get a tour around the island while having a view over the skyline of San Francisco.
San Francisco Discount Card: After your booking you get 10% discount on all your San Francisco offers like the Golden Gate Bike Tour, Helicopter Tour, Bridge to Bridge Cruise and more.
Optional Bart Ticket: Train ticket from San Francisco Airport or Oakland Airport to a station close to your hotel. It is a one way transfer.
What is important to know?
Hop on Hop off Bus
Get on at on and off of these stops: Fisherman Wharf, Activity Center, Washington Square/Nord Beach/Litte Italy/Barbary Coast/, Embarcadero, Union Square South, Mason/Ecke Ellis Street, Civic Centre, Fulton Street, Alamo Square, Haight Ashbury, Golden Gate Park, Golden Gate Bridge, Palace of Fine Arts, Lombard Street, Union Square North, China Town, Stuart Street and Pier 39
You can find the operation hours on your ticket
Your ticket is valid for 24 hours from the first moment you start using it
Alcatraz
After the reservation you can select which day and time you want to visit Alcatraz.
It includes the ferry to the island and the entrance to the prison on the island. Make sure you are on time. When the boat leaves without you it is not possible to be reimbursed.
San Francisco Discount Card
After your reservation you will get a discount code of 10% which you can use online. Instructions will follow after your reservation. 
Bart Ticket – Airport Transfer
The San Francisco Bart Ticket (your Airport Transfer) is valid for a one way transfer. If you have already an airport transfer you can also use it to get to the city from your hotel.
These are the stations you can arrive or depart from:
You will receive a ticket with the exact steps you need to take when arriving at Oakland Airport or San Francisco Airport. Do not purchase this ticket if your Flight Arrives after 10:00 PM
Here are the operating hours for the trains:
    * Monday through Friday 4:00 a.m. - Midnight

    * Saturday 6:00 a.m. - Midnight

    * Sunday 8:00 a.m. - Midnight

    * Last train to San Francisco departs at 11:45pm daily.
How does it work?
Select your visit date for Alcazar;
 Select the amount of people traveling with you;
Finish the reservation.
Get the most out of your visit to San Francisco!